[available crested geckos]
All geckos have been raised on a diet of CGD so that they will accept it readily should you choose to continue with that diet. If you choose to supplement the gecko's diet with live insects, you can expect a much faster growth rate. Keep in mind that coloration changes and will usually improve as a gecko matures.
Before purchasing a gecko, please review my shipping & terms information. If you agree to the terms of purchase, please contact me via email to ensure the gecko is still available before sending payment. Prices listed do not include shipping costs ($50 for overnight service to anywhere in the continental US). Feel free to contact me if you have any questions.
KNKF_D1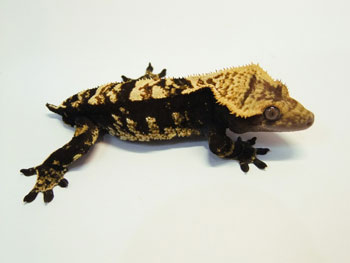 Dam: Konstantine
Sire: Kif
DOB: ~ 10/20/07
Incubated: ~ 110 days
Weight: n/a
Sex: male
Morph: harley
Description: Adult male with very nice structure/build and sweet contrast!
Price: $95 SOLD
more to be added soon ...